Enrique E Saavedra
, Age 75
Fairfax, VA
Mentions for Enrique E Saavedra
Resumes and CV
Resumes Publications
Amazon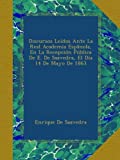 Discursos Leídos Ante La Real Academia Espãnola, En La Recepción Pública De E. De Saavedra, El Día 14 De Mayo De 1863
Author:
Enrique De Saavedra
This book was originally published prior to 1923, and represents a reproduction of an important historical work, maintaining the same format as the original work. While some publishers have opted to apply OCR (optical character recognition) technology to the process, ...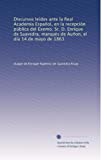 Discursos Leídos Ante La Real Academia Español, En La Recepción Pública Del Exemo. Sr. D. Enrique De Saavedra, Marqués De Auñon, El Día 14 De Mayo De 1863 (Spanish Edition)
Author:
Enrique Ramírez de Saavedra Rivas
Publisher:
University of Michigan Library
NOTICE: You may not use PeopleBackgroundCheck or the information it provides to make decisions about employment, credit, housing or any other purpose that would require Fair Credit Reporting Act (FCRA) compliance. PeopleBackgroundCheck is not a Consumer Reporting Agency (CRA) as defined by the FCRA and does not provide consumer reports.