Jaren J Johnson
, Age 33
Glen Allen, VA
Jaren Johnson Phones & Addresses
Social networks Mentions for Jaren J Johnson
Resumes and CV
Resumes Publications
Amazon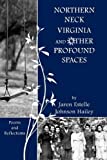 Northern Neck Virginia And Other Profound Spaces
Author:
Jaren Estelle Johnson Hailey
Publisher:
The Write Place
Profound spaces-places, moments, and people-mold the spirit of every person. Jaren Hailey was shaped by the memories of her mother's family, born on her grandparents' farm in Northern Neck Virginia, Lancaster County, in the town of Kilmarnock. The love and lessons learned in these profound spaces of...
NOTICE: You may not use PeopleBackgroundCheck or the information it provides to make decisions about employment, credit, housing or any other purpose that would require Fair Credit Reporting Act (FCRA) compliance. PeopleBackgroundCheck is not a Consumer Reporting Agency (CRA) as defined by the FCRA and does not provide consumer reports.