Professional Records
Real Estate Brokers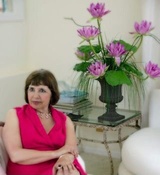 Real Estate Agent
Specialties:
Buyer's Agent, Listing Agent, Relocation, Property Management
Work:
Del Osman Realty, Inc.
733 Bishop Street, Suite 1800, Honolulu, HI 96813
(808) 523-6421 (Office), (808) 373-7111 (Cell), (808) 523-6423 (Fax)
Description:
Kay Osman is the Vice President and Principal Broker of Del Osman Realty, Inc. Kay believes that a client's loyalty must be earned and never be taken for granted. She strives to deliver more than she promises. Kay's clients and associates consider her a dedicated professional. Her best quotation is from George Santayana: " The difficult I do immediately; the impossible takes a litttle longer."Search For and Find the Best Hawaii Homes Here…Investors and home owners from all-over the world purchase real estate in Hawaii each year because Hawaii offers the most beautiful weather, scenery and people. Click the following link to see some newly constructed homes and projects in Hawaii -Newly constructed homesClick the link that follows to do a property search with photos for Hawaii homes at the best prices -Property searchOn this Web page you can click on any map to see homes for sale by Hawaii neighborhoods. Follow the link that follows to do some Hawaii house huntingHere you can find the best of Hawaii living with these gorgeous luxury homesOn this Web page you can find detailed listings of homes in Hawaii, you can search for homes by a price range, you can find information on current interest rates and mortgage information, you can find information on real estate taxes, facts on investing in Hawaii and much more. Get the Hawaii real estate information you need here- Detailed Hawaii home listingsOn the following Web page you can find information on Hawaii schools, Hawaii statistics, you can find out all about Hawaii, you'll find other Web links, and more. Find out what you want about Hawaii here - Hawaii informationHawaii Videos:Click here To View a Video About HawaiiGo Here to View a Video Of a Hawaii Property With a Spectacular ViewClick on This Link View a Video With Information About Waikiki and HawaiiGo Here to View a Video About OceanPointeClick Here to View a Video About a Kailua Beachside HomeContinuing eduction and self development keep her ready and fit to take on the challenges of the business. She has earned the GRI(graduate Realtor Institute), CRS(certified Residential Specialitst), CRB (Certified Real Estate Brokerage Manager), ABR (Accredited Buyer's Representative) and SRES designations and participated in numberous seminars and workshops; in addition to volunterring for numerous committees and Board of Realtors functions.Kay's interest in and concern for others brings her countless referrals which she values highly. Her philosophy is simple: Her clients' best interest comes first. This old fashion concept has paid handsome dividends in priceless clients' loyalty, referrals and appreciation. The clients encouragement and support are the most important factors in Kay's success and dedication.Give Kay a call and let her turn your dreams into reality. Her high ethical standards, commitment, excellent knowledge of finance, inventory, all aspects of the residential market is of great help to both Buyers and Sellers.