Marcos Silva
Birmingham, AL
Mentions for Marcos Silva
Publications
Amazon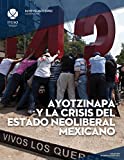 Ayotzinapa Y La Crisis Del Estado Neoliberal Mexicano (Revisión Universitaria) (Spanish Edition)
Author:
David Velasco Yáñez, Edilberto Jaime Antonio Texcahua, Bernardino Lázaro León, Marcos Ortega Silva, Félix Francisco Velasco Cárdenas, Michel Zeferino Ramírez Maldonado, Eduardo Collard Llamas, Luis Rodrigo Galindo Madroño, Alejandro Velasco Sánchez, José Rodrigo Pinto Escamilla, Jorge Luis Cervantes Blanco, Miguel Cerón Becerra, Daniel Montaño Beckmann, Jesús Luis López Aguilar, Elías Félix Hernández, Ileana Carolina Hernández Herrera, José Elías Ibarra Herrera, Diego Martínez Zarazúa
¿Qué pasó en Ayotzinapa? Es la pregunta que surgió el 26 de septiembre de 2014, que no encuentra una respuesta satisfactoria pese a la intervención de actores de distintas instancias, niveles y nacionalidades, y al esbozo de múltiples hipótesis sobre los enfrentamientos registrados en Iguala, Guerre... Colours In The Development Of Wittgenstein's Philosophy
Publisher:
Palgrave Macmillan
This book presents and discusses the varying and seminal role which colour plays in the development of Wittgenstein's philosophy. Having once said that "Colours spur us to philosophize", the theme of colour was one to which Wittgenstein returned constantly throughout his career. Ranging from his Not...
Isbn (Books And Publications)
The Rule Of The Holy Virgin S. Clare
The Chronicle And Institution Of The Order Of ... S. Francis
NOTICE: You may not use PeopleBackgroundCheck or the information it provides to make decisions about employment, credit, housing or any other purpose that would require Fair Credit Reporting Act (FCRA) compliance. PeopleBackgroundCheck is not a Consumer Reporting Agency (CRA) as defined by the FCRA and does not provide consumer reports.