Work History and Career Records
Medicine Doctors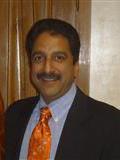 Dr. Shankar Iyer, Elizabeth NJ

- DDS (Doctor of Dental Surgery)
Specialties:
Prosthodontics
Address:
469 Morris Ave, Elizabeth, NJ 07208
(908) 527-8880 (Phone) (908) 527-8587 (Fax)
Jersey Smiles
3000 John F Kennedy Blvd, Jersey City, NJ 07306
Procedures:
Cosmetic Procedures
Dental Bridges
Dental Implant Surgery
Lower Dentures
Restoration of Dental Implants
Upper Dentures
Conditions:
Edentulism
Grinding of Teeth
Awards:
Honored Fellow, AAID, Nov 2006
Diplomate American Board of Oral Implantology/Implant Dentistry, 4/1/2004
Fellow Greater NY Academy of Prosthodontics, 11/25/2010
Fellow, American Academy of Implant Dentistry, 10.13.2000
Heat and Bone tissue injury during implant placement, 1997, 1998
Languages:
English
Spanish
Philosophy:
Prevention, personal attention and care. Comprehensive diagnosis and a thorough treatment plan. Extensive evaluation of the problems, identification of the etiology and treating what is absolutely necessary. Cosmetic and Implant dentistry need objective evaluation of the needs and this can only be accomplished with a coordinated effort of the team at our office who not only treat teeth but the person.
Shankar P. Iyer
Specialties:
Vascular & Interventional Rad
Work:
ProHEALTH Care Associates LLPLake Success Interventional Radiology
2800 Marcus Ave STE 110, New Hyde Park, NY 11042
(516) 622-7485 (phone) (516) 608-2883 (fax)
Site
ProHEALTH Care Associates LLPBronx Interventional Radiology
1200 Waters Pl STE M112, Bronx, NY 10461
(718) 918-2523 (phone) (718) 918-2530 (fax)
Site
Education:
Medical School
Grant Med Coll, Univ of Mumbai, Mumbai, Maharashtra, India
Graduated: 1979
Procedures:
Appendectomy, Endarterectomy, Gallbladder Removal, Hernia Repair, Laparoscopic Appendectomy, Laparoscopic Gallbladder Removal, Varicose Vein Procedures
Conditions:
Gastric Cancer, Malignant Neoplasm of Colon, Malignant Neoplasm of Female Breast, Pancreatic Cancer, Rectal, Abdomen, Small Intestines, or Colon Cancer, Varicose Veins, Abdominal Hernia, Appendicitis, Benign Neoplasm of Breast, Breast Neoplasm, Malignant, Cholelethiasis or Cholecystitis, Inguinal Hernia, Liver Cancer, Malignant Neoplasm of Esophagus, Melanoma, Ventral Hernia
Languages:
English, Spanish
Description:
Dr. Iyer graduated from the Grant Med Coll, Univ of Mumbai, Mumbai, Maharashtra, India in 1979. He works in New Hyde Park, NY and 1 other location and specializes in Vascular & Interventional Rad.
License Records
Shankar Iyer
Licenses:
License #:
E100370 - Expired
Category:
Emergency medical services
Issued Date:
Jun 8, 2013
Expiration Date:
Aug 31, 2015
Type:
Los Angeles County EMS Agency